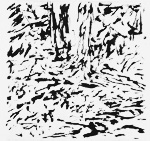 November 5, 2009
Kenneth Baker reviews 'Concerning the Forest' in Thursday November 5th's edition of the San Francisco Chronicle.


>> Download the review (jpeg)

>> Read the review on SFGate.com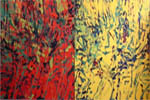 September 12 to November 7, 2009
Concerning the Forest: The Work of Sandy Walker a one person show curated by Theres Rohan and accompanied by a catalogue including an essay by David Cohen. The catalogue is available for $15 from the gallery at info@meridiangallery.org

Meridian Gallery
535 Powell Street
San Francisco, CA 94108

>> Meridian Gallery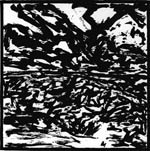 July 25 to September 20, 2009
California in Relief: A History in Wood and Linocut Prints includes Sandy Walker's woodblock print "Wyoming"

Saint Mary's College of California
1928 Saint Mary¡s Road
Moraga, CA 94556

>> Hearst Art Gallery, St Mary's College of California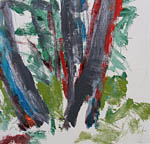 June 1 to September 5, 2009
Sandy Walker takes part in Diminuendo & Crescendo: Smallworks Exhibition at the San Francisco studio school.

30 Hotaling Place,
LL San Francisco,
CA 94111
(415) 398-4300

>> San Francisco Studio School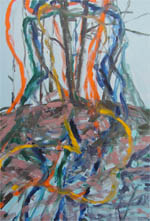 May 28th to August 1, 2009
Sandy Walker exhibits painting "Earth's Back" at the New York Studio School

8 West 8th Street
New York
The 2009 Alumni Association Biennial. Juror: Sean Scully

>> New York Studio School show "Open City"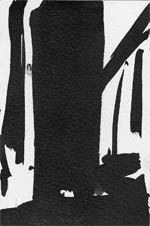 June 20th to July 18, 2009
The Artists of ZYZZYVA exhibitiion includes a drawing by Sandy Walker.

Mina Dresden Gallery
312 Valencia @ 14th Street
San Francisco, CA 94103

>> ZYZZYVA the journal of west coast writers & artists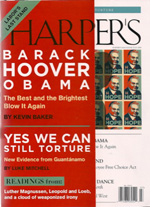 July 2009
Five Ink Drawings by Sandy Walker accompany an article in the July edition of Harpers Magazine on torture New Evidence from Guantanamo (page 49).


>> view article exerpt


February 2009
Sandy Walker writes an obituary for master printmaker Sheila Marbain.

>> artcritical.com/walker/SWMarbain.htm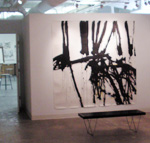 Nov 6, 2008 to January 29, 2009
Sandy Walker joins 8 other artists in exhibit
Surface & Substance Works on Paper.

The San Francisco Studio School,
30 Hotaling Place, Lower level, San Francisco, CA
>> sfstudioschool.org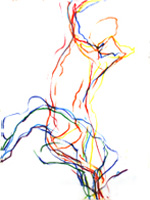 May 22 to September 26, 2008
Large drawings by Sandy Walker are included in
Sight & Sensibility a 3 person show at SFSS.

The San Francisco Studio School,
30 Hotaling Place, Lower level, San Francisco, CA
>> sfstudioschool.org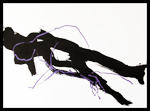 September 2008
Sandy Walker and Autumn Press produce poster "The Bush Legacy" to be distributed throughout the coming year.

The poster is free, please contact Sandy to recieve one for shipping costs only.


>> caprintmakers.org/pdf/Newsbrief/fall2008.pdf page 10 for article



June 2008
Sandy Walker's painting 'Moran Sunset' is part of group show 'Art in the Embassies' at the America Embassy in Greece.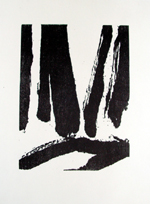 April 2008
Sandy Walker contributes "Yet if they fail to express", a woodblock print on Kochi White paper to the
California Society of Printmakers. Carved by Sandy out of maple plywood, it was printed by Kim Vanderheim at the Painted Tougue studio in an edition of 20.


>> caprintmakers.org
>> caprintmakers.org/pdf/NewsBrief_Sp08.pdf page 9 for article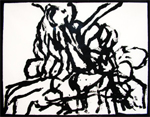 January 6 - February 18, 2007
An exhibition of Human's Being, a series of 10 woodblock prints and the Judith Suite by Sandy Walker show at the Triton Museum of Art.

Triton Museum of Art, 1505 Warburton Avenue, Santa Clara, CA
tel: 408-247-3754
>> more information
>> view prints

>> Art Ltd review by Hearne Pardee, May 2007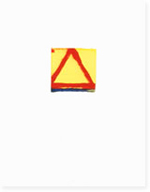 January 23 - March 16, 2007
Screen prints "12 - 2" and "A - 1" by Sandy Walker are included in the Printmakers Bay Area show at the the Richmond Art Center Community Gallery.

Richmond Art Center, 2540 Barrett Ave, Richmond, CA 94804.
tel: 510 620 6772
>> view prints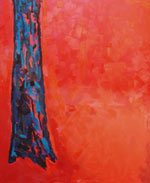 December 5 - 31, 2006
Sandy Walker and Ellen Salk exhibit new paintings in a 2 person show at Wooster Arts Space in New York City.

147 Wooster St. NYC, NY. tel: 212-777-6338.
>> view paintings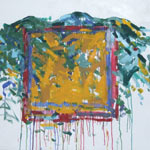 October 2006 - Summer 2007
Sandy Walker exhibits 3 large paintings as part of Nine at Gaia, a group show at the Gaia Arts Center, Berkeley.

Gaia Arts Center, 2120 Allston Way, Berkeley, CA
Open Wed Thurs 4-7pm, Sun 1-3pm & during theatre performance.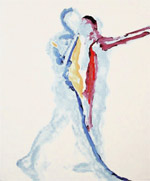 May 25 - June 16, 2006
Sandy Walker's painting '2 men' is included in the
NYSS Alumni exhibition
at the Painting Center, 52 Greene St, New York, NYC 10013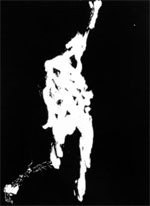 February 20 - March 10 2006
Sandy Walker's woodblock print 'Judth Suite II' is included in
From Postwar to Postmodernism 'an Archive and Exhibition' showcasing three decades of Columbia Visual Artists.

LeRoy Neiman Gallery, Dodge hall, 2960 Broadway (at 116th Street), New York.

For more information please contact Garth Graeper (212) 854 3412.



>> News 2005-2003