November 3, 2005
A large ink drawing (Untitled) by Sandy Walker will be auctioned at the New York Studio School Annual Fall Fundraiser and Benefit Auction.

>>New York Studio School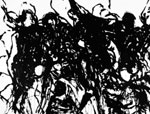 September 8 to October 13, 2005
Hendrix College presents The Quickening Body, large works on paper by Sandy Walker at the Trieschmann Art Gallery, 1600 Washington Avenue, Conway, Arkansas.

For more information contact Professor Maxine Payne (501) 450-4587 payne@hendrix.edu

June through December 2005
The Hood Museum of Art, Dartmouth, will show two prints by Sandy Walker as part of it's anniversary exhibition Celebrating 20 Years.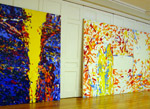 March to April 2005
Lenten Meditations - an exhibition of paintings by Sandy Walker for a 1978 Lenten exhibit at St. John the Divine in New York City, shown at First Congregational Church of Berkeley as Stations of the Cross.

>> more information

December 2004 to January 2005
Wooster Arts Space shows three black and white works on paper by Sandy Walker in a group show.
147 Wooster Street
New York, NY
212-777-6338

November 15 to December 15, 2004
Sandy Walker participates in the Jentel Artist Residency program. Located in Lower Piney Creek Valley, near Sheridan, Wyoming.
http://www.jentelarts.org/

January 24 to February 7, 2004
Sandy Walker participates in residence at Red Cinder Creativity Center, on the Big Island of Hawaii
http://www.redcinder.org/

January 22, 2004
New York Sun Review of the Wooster Arts Space show, written by David Cohen. Reprinted online at artcritical.com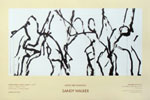 January 15 to February 14, 2004
One man exhibit at the Wooster Arts Space, a beautiful gallery in SoHo.
147 Wooster St. NY, NY. tel: 212-777-6338.
Opening Reception: January 15 6-8pm.

June 2003
The Daum Museum of Contemporary Art in Sadalia, Missouri, added the Forest Suite to its permanent collection.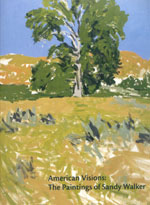 April 10 to June 13, 2003
American Visions: the Paintings of Sandy Walker
An exhibition of large scale paintings from the last thirty years was exhibited at the Ulrich Museum of Art at Wichita State University in Wichita, Kansas.

A sixty-four page book of color plates accompanying the exhibit is available from the museum. To order or for more information call 316-978-3898, or visit Ulrich Museum of Art website for online contact information.

>> News 2003-2001