A Sketch
by Robert Dance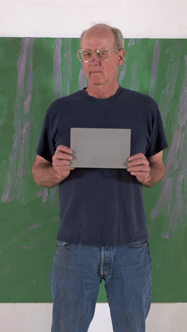 Sandy Walker was born on August 30, 1942, in Washington, DC. His father, Allan E. Walker, Jr., was a physician and third-generation Washington native, while his mother, Katherine Braxton Hall, was descended from a long line of Virginians. Walker grew up in the capital and attended St. Albans School, where his passion for painting was encouraged by Dean Stambaugh. After graduating in 1960, Walker studied art history at Harvard (which did not then offer a curriculum in studio art) and decided to pursue a career as an artist.

After Harvard, Walker spent one year at the Boston University School of Fine Arts followed by a year at the New York Studio School, where he worked with legendary teacher Mercedes Matter. In 1968 he received a M.F.A. in painting from Columbia University as a Brevoort Fellow. During these formative years, Walker trained under noted instructors such as Morton Sachs, Walter Murch, Charles Cajori, Nicolas Carone, Stephen Greene, Tony Harrison, and John Heliker.

In the fall of 1968, Walker established his studio in Brooklyn and married Sally Bowie. The peripatetic couple moved constantly, living in Wyoming, California, and, finally, Washington, DC. All these places provided subject matter for the artist's increasing interest in exploring landscape as an essential subject in his painting. Walker and his wife divorced in 1972. He remained in Washington for four years, where he worked as an art therapist at the Psychiatric Institute and later taught at Northern Virginia Community College. This period also saw the first public exhibitions of his work.

A cabin in Nova Scotia was made available to Walker during the summer of 1975, and it was during these months that an important transformation took place in both his observation of nature and his working method. Here began Walker's pattern of traveling to specific landscape sites, where through a series of drawings followed by small paintings, he would ultimately paint a summarizing large scale work, which condensed and summarized his sense or vision of the place. In 1976, he set out for six months using this model and painted in the Grand Canyon, at Mount Shasta, and at the Niagara Falls, attempting to fathom archetypal American landscapes by creating one large diptych at each site. The following year he ventured into the forests of New Jersey's Palisades State Park after settling once again in New York.

Walker was given his first important exhibition in 1977 at the Grace Borgenicht Gallery (New York). The show, focusing on his exploration of the American landscape, was a success. Two additional solo exhibitions with Borgenicht followed in 1978 and 1980. During these years Walker traveled extensively, including painting trips to the Outer Banks of North Carolina, the Grand Tetons in Wyoming, and the autumn splendor of New Hampshire.

In 1980, Walker was selected for two residencies, first at the MacDowell Colony, and later at the Cite Internationale des Arts in Paris. Following these intensively reflective months, Walker once again began painting in his studio. Where previously he had encountered and recorded nature directly, now Walker would focus on the landscape's essence, resulting in a new pictorial vocabulary at once more abstract and symbolic.

Walker met dancer and choreographer Ellen Webb in 1977, and soon they began collaborating on projects that combined their interests. They married in Paris in 1981 and returned to New York later that year. From New York they began annual summer sojourns to Stehekin, Washington in the North Cascades National Park, which also became both subject and inspiration for Walker's landscapes. They decided to settle permanently in Oakland, California in 1984 while expecting the first of their two children.

During the 1980s, Walker began making woodblock prints, after painting the blocks directly in the landscape that was his subject. Working with master printer John Stemmer, and later with Joan Hall and Romi Sloboda, Walker made over thirty mostly hand-printed editions. In 1995, Walker was selected by the Cleveland Print Club as the artist for their 75th Anniversary print edition. That same year the List Art Center at M.I.T. organized a two year travelling exhibition of Walker's woodblock prints. Collaborating in the mid-1990s with master silk screen printer Sheila Marbain in New York, Walker began experimenting with color prints, creating monoprints derived from a silk screen matrix. A long-time member of the California Society of Printmakers, in 1999 he served as guest editor of The California Printmaker, the Society's annual journal.

For almost twenty years, Walker painted and exhibited in the North Cascades, Wyoming, and the San Francisco Bay Area. Concurrently, as time allowed and projects developed, he and his wife maintained a close collaboration on dance performances. Walker was recognized for this work in 1989 when he won a prestigious Isadora Duncan Dance Award for Visual Design. That same year Walker also had his first important museum exhibition at the Riverside Art Museum. Shows at the Nicolaysen Art Museum (Casper, WY), the San Jose Museum of Art, the Fresno Art Museum, the Ulrich Museum of Art (Wichita, KS) and the Triton Museum (Santa Clara, CA), followed throughout the next more than two decades.

Walker's long time interest in the figure was re-ignited in the late 1990s and, increasingly, the human form once again began to emerge as a subject in his work. Working closely with Bay Area actresses and dancers as models, his paintings and prints focused on the sustained collaboration between artist and subject.

This body of work also reveals a close relationship between landscape and figure, and compositionally there are occasions in which the two subjects blur. In his latest works, one might wonder whether the real subject matter is a recumbent figure or an arid landscape. This sort of ambiguity has been a hallmark of Walker's work for the past thirty years, at once enigmatic and sublime.

Walker's recent exhibitions include one person shows at Elizabeth Harris Gallery in New York City (2013, 2016). In a review of the show by Piri Halasz, she wrote: "in a semi-abstract fashion, [Walker's drawings] depict evergreen trees arrayed from top to bottom in all their glory – along with the occasional bare tree trunk, road, rising sun and/or mountain".

Walker has continued to show work in the San Francisco Bay Area. He was selected by Karen Breuer of the Achenbach Foundation to be a part of the Richmond Art Center's show "Pressing On- Contemporary Printmaking". Walker was also selected as a spotlight artist for the Annual Members' Show at the Richmond Art Center. Two of his prints were included in a auctions at the Crocker Museum of Art in Sacramento, and he was selected for a juried show at the Falkrik center in San Rafael. In addition, his work has been exhibited in other juried shows in California. Walker's print "Doug Fir Portrait" was recently shown at the Cannery Galleries for the "ClimART" show.

Walker's prints have been published twice in Art In Print, and a collection of his small woodblock prints are currently offered in the Mezzanine Gallery at the Metropolitan Museum of Art in New York. Walker was most recently featured in "NYSS: West Coast Connections", a show at Hackett Mill Gallery in San Francisco.

In November 2018, seventeen of Sandy Walker's Woodcuts from a range of his work have been accepted into the permanent collection at the Berkeley Art Museum.

Sandy Walker started 2019 by showing at the Sebastopol Center for the Arts in the exhibition "NOT JUST Landscapes". His woodblock print "Forest Rhapsody", was selected for the show. Walker then exhibited with the California Society of Printmakers at the Janet Turner Print Museum in March. Walker's piece, "Stehekin Forest", was selected by juror Leslie Jones, curator of print at LACMA. In June 2019, Sandy Walker is showing his piece "Holy Weed" at the Compound Gallery in Oakland. Following the Compound Gallery show, Walker is showing with the IPCNY in their New Prints 2019 exhibition.

In January of 2020, Sandy Walker showed his piece "Birth Image" at the Davis Art Center in Davis, CA. Following this group exhibition, Walker was invited to have a solo show at the SHOH Gallery in Berkeley, CA. His show, titled "Humans Being" was presented online due to the Covid-19 Pandemic, and was presented over the course of a month, from April 22nd to May 10th.

Following the online solo show in March of 2020, the SHOH Gallery once again held a solo show for Sandy Walker in March of 2021. Fortunately, this show was able to be held in person. The show was titled "Our Time", and was centered around his painting "I Am The Raft of the Medusa (After Gericault)". The show was made as a reflection of the societal change in our country and our world. Walker showed numerous paintings, drawings, and prints that conveyed connection to the natural world, and the rapidly changing world since 2001. "Our Time" had a virtual opening due to Covid-19 and that opening is available to watch online. Following the exhibition at the SHOH Gallery, Sandy Walker was accepted as an alumni resident at the Skowhegan School of Painting and Sculpture, where he completed a three week residency.

David Cohen writes:
"American painting in the second half of the last century was often marked by a synthesis of abstraction and representation, gesturalism and naturalism, and Walker's various affinities have marked a rapport with such reconciliations. … What seemed at first uncomplicated lyricism at the service of a mystical rapport with landscape comes - through realization of the artist's obsession with the linguistic aspect of painting - an almost fraught interrogation of marks and their meaning. The sublime he is concerned with is not that of nature per se so much as its unknowableness: rather than the "simple" sublime of wide open spaces, dense forests, and awe-inspiring wonders, it is a cognitive sublime of never being able to find one's place in it, or even truly fix one's gaze upon it, that animates these compelling yet elusive works."